Careers & Progression
Dudley Academies Trust recently announced a major careers education programme. We've now produced a simple diagram to explain some of the things that your children will be learning and some of the activities they will participate in. Click here to take a look! There's much more to come…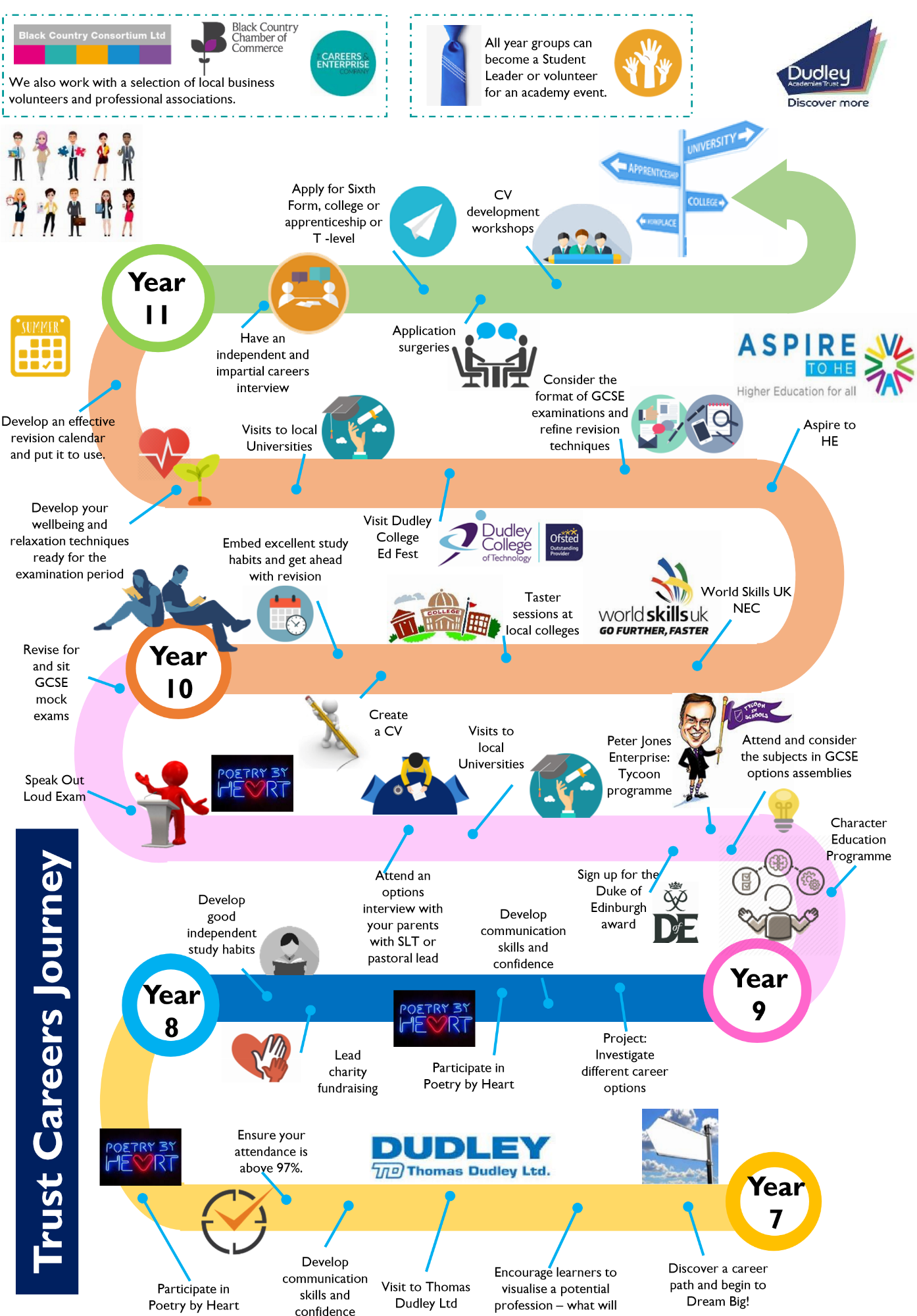 At Beacon Hill Academy we are committed to providing a comprehensive planned programme of careers education for all learners in Years 7-11 and information, advice and guidance in partnership with the local authority and external providers/professionals. We are committed to ensuring our learners emerge from the Academy with knowledge and character attributes to make informed and realistic decisions whilst maintaining high aspirations.
The Academy is committed to following the government's new Careers Strategy (published January 2018) and aim to meet the 8 Gatsby Benchmarks by the end of 2020 as per the guidance. We will use the Compass Audit tool to evaluate our careers impact and measure our progress against the Gatsby Benchmarks and use Tracker to improve the quality of provision. The Academy has become part of the Black Country Careers Hub and will work alongside The CEC to deliver a high-quality careers education for all Learners.
As well as a wide range of events throughout the year, including Careers Events, Enrichment Days, Visiting Speakers, Business Breakfasts, off-site visits, and CV and Mock Interview events. Mr Mahey / Mrs Busby is available for discussions/help regarding career pathways by appointment before school, at break time and after school in the careers office.
To contact Mr Mahey / Mrs Busby please call 01902 677754 or email careers@beaconhillacademy.org.uk
Beacon Hill Academy is committed to providing a planned programme of careers education for all Learners in Years 7-11 Information, advice and guidance is provided in partnership with the Internal and external providers/professionals.
Our Careers Programme is designed to meet the needs of all the learners at Beacon Hill Academy. It is differentiated and personalised to ensure progression through activities which are appropriate to each learner's stages of career learning, planning and development.
Careers Advice
Would you like more information on the different options and career choices available to your child? Do you need help understanding the different Apprenticeship and College choices available for when your child leaves school, and what jobs this may lead to? If so, why not come along to our next Parents Evening to see our Careers Advisor. To make an appointment please email Careers@beaconhillacademy.org.uk or telephone Mr Mahey or Mrs Busby for more information.
Labour Market Information
Labour market information can be everything from overwhelming and confusing in-depth statistics to hearing about a potential employer starting up near where you live. Learning how to use it can help young people to make informed decisions about their future study and career choices. Labour market information tells you about what is happening in the job market at national, regional and local levels and includes information about jobs and salaries, what skills employers are looking for in different industrial sectors, conditions, communities and future trends.
Labour Market Profile – Nomis – Official Labour Market Statistics
Black Country Skills Factory – Local Labour Market Information
National Careers Service Job-profiles
The National Careers Service Job Profiles contain information about the types of jobs available in different areas, which industries are growing, which need staff to replace those leaving and the skills which these employers will be looking for. The National Careers Service Job Profiles contain information on the skills and qualifications required for over 750 jobs. You can also find out about the work involved, salaries you and career prospects. Click here to view.
Alumni / Careers & Business Mentors
Beacon Hill Academy needs your help: do you run a local business, are you a past learner or have you an interesting or different career?
As part of our wider careers programme, we are always looking for professionals/past learners to work with us. Are you able to act as a mock interviewer? An inspirational mentor? Can you offer careers talks? If you would like to be involved in the rich pool of local talent we are assembling, please contact Mr Mahey / Mrs Busby (Details at top of page) who will be keen to discuss opportunities for you to join our programme.
Learners at Beacon Hill Academy can access our Internal Careers Portal for more information, useful links, key individuals and more by clicking the below button:
Useful terminology
NVQ – National Vocational Qualification
GCSE – General Certificate of Secondary Education
UCAS – University and Colleges Admissions Service
BTEC – Business and Technology Education Council
A level – Advanced Levels
FE Colleges – Further Education Colleges
LAs – Local Authorities
PRU – Pupil Referral Unit
SEN – Special Educational Needs
AQA – Assessment and Qualifications Alliance
HE – Higher Education
DfE – Department for Education
Dip – Diploma
HND/HNC – Higher National Diploma/Certificate
Useful Links
General
Apprenticeships
BestCourse4me
notgoingtouni
UCAS
Successatschool
The Apprenticeship Guide
National Careers Service
National Careers Service CV Builder
National Careers Service Interview Tips
National Careers Service Job Search
Be Inspired Get Hired
Careers Planner
NHS Careers
School Leavers Jobs
Engineering Careers Prospectus
Higher Education
https://www.ucas.com/
http://extra.shu.ac.uk/hepp/
https://www.thecompleteuniversityguide.co.uk/
https://www.opendays.com/
http://www.applytouni.com/
www.which.co.uk/University
https://www.whatuni.com/
http://www.bestcourse4me.com/
http://www.push.co.uk/
Gap Year
Careers and Apprenticeship information
https://www.getingofar.gov.uk/
http://www.apprenticeshipguide.co.uk/
https://www.learningunlimiteduk.com/
http://www.derby.gov.uk/jobs-and-careers/jobs/apprenticeship-hub/
https://www.notgoingtouni.co.uk/
https://www.getmyfirstjob.co.uk/
http://icould.com/
http://www.plotr.co.uk/
https://nationalcareersservice.direct.gov.uk/
https://www.prospects.ac.uk/
https://www.careerkickstart.rbs.com/
https://www.healthcareers.nhs.uk/
https://www.raf.mod.uk/recruitment/
http://www.royalnavy.mod.uk/careers
http://www.army.mod.uk/
www.goconstruct.org
https://successatschool.org/
https://www.bbc.co.uk/bitesize/careers
Success at School
https://successatschool.org/advicedetails/789/electrical-apprenticeship
https://successatschool.org/careerzonesummary/22/Recruitment-HR
https://successatschool.org/careerzonesummary/19/Banking-Finance
https://successatschool.org/careerzonesummary/29/Law
https://successatschool.org/advicedetails/987/project-management-skills
https://successatschool.org/advicedetails/838/apprenticeships-in-engineering
https://successatschool.org/advicedetails/872/plumbing-apprenticeships
https://successatschool.org/advicedetails/716/types-of-apprenticeships
Colleges