Fun Run Fundraiser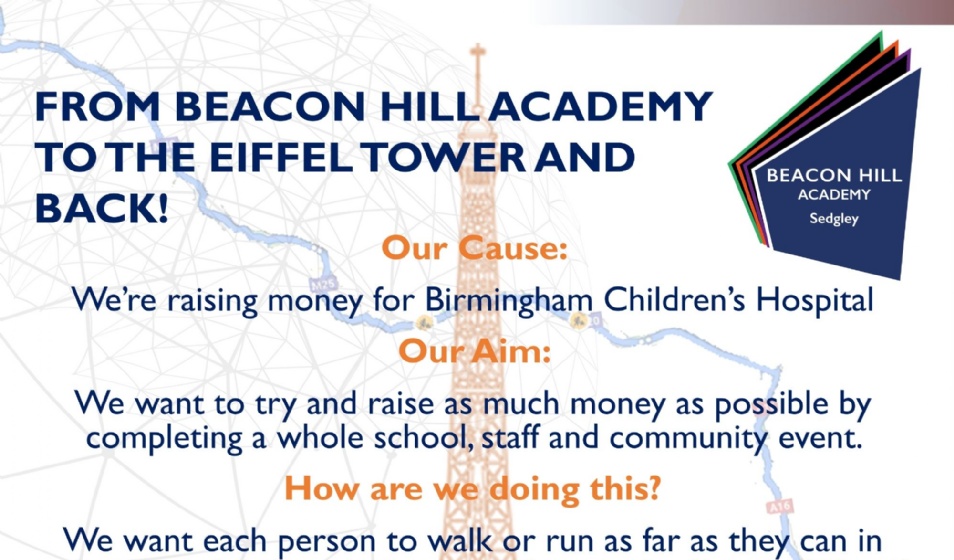 As you may or may not have been aware, our learners voted for Birmingham Children's Hospital as our chosen charity to raise money for this year.
Due to the COVID-19 outbreak, we've been unable to do as much as we'd like, so we have started a new initiative to try and raise money for this fantastic cause.
Over the next two weeks, we are aiming to get staff, learners and parents to travel from Beacon Hill Academy to the Eiffel tower and back (virtually, of course!) - this is 1360km in total. We would like everyone to get involved with this and donate £1, or more if you can, even if it's just running/walking 1km on the golf course or to get the shopping. Every £1 or 1km adds up!
If you would like to get involved, please send any screenshots of your distance covered to FunRun@beaconhillacademy.org.uk so we can keep track of how we're getting on and publicise all of these wonderful achievements.
Please donate at https://www.justgiving.com/fundraising/beaconhillacademy01 and stay tuned to our social media pages for more information and updates.
Thank you so much for your invaluable support with this.
Let's all get moving and make a difference!
Mr Martin

Commitments Lead