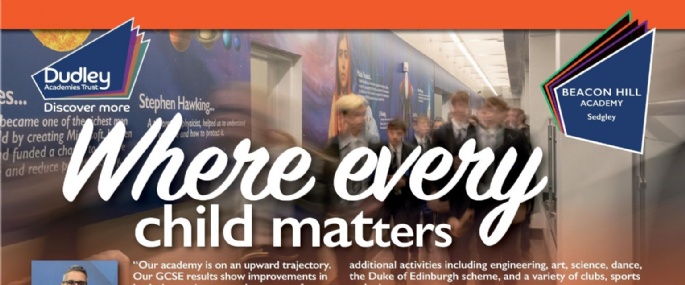 Discover More at our Open Evening!
Published 19/08/21
Come to our open evening Tuesday 5th October - 6pm
All events may be subject to changes, so please see our academy website before attending, where you will also be able to find an online open evening.
Beacon Hill Academy is on a mission to develop an inspirational school that instils ambition and desire in its
learners, opens their minds, widens their horizons and equips them to succeed in a challenging world.
The marked rise in the proportion of learners achieving Grade 5 or higher in both English and mathematics is a very good indicator of the advances made across the academy.
Having made significant improvements to every aspect of academy life and performance over the last three years, the Senior Management Team at Beacon Hill is determined to ensure that the academy continues to go from strength to strength.
Staff want learners to enjoy their time at the academy, to feel safe, to feel supported and to make excellent progress as a result. There is a passionate belief that every young person matters and that every learner has a wide array of talents that must be identified and nurtured.
This is an academy with a mission to give each individual learner a choice of ways forward in life. It runs a wide range of programmes focusing on careers, leadership, volunteering, personal and social responsibility, confidence building and personal development.
Recently, learners have participated in public speaking and poetry recitation competitions, full-scale dramas, musicals, dance, STEM competitions, entrepreneurship competitions and a broad range of extra-curricular clubs, teams and activities.
Learners are able to participate in additional activities including engineering, art, science, dance, the Duke of Edinburgh scheme and a variety of sports.
Beacon Hill Academy offers a rounded education that will open young people's eyes to the opportunities available in the wider world if they study hard and give themselves something to aim for.
Read More